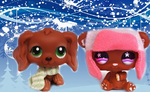 Hi,I'm Nicole from...StarNicole.Welcome to my LPS blog! Soon I'll but My Pictures of LPS,LPS logo's and others! I only have one LPS logo that looks like the logo that is the LPS
V.I.P
logo! I had LPS
V.I.P.
News on LPSO!
LPSO had now closed on Dec1th but don't worry,you can still go to LittlestPetShop.com.That was the message from

LPSO but every LPSO or LPS fan has to know that LPSO is coming back on April 2th 2012! But just saying that don't uses to old codes,don't get a Relationship (couples),and follow the rules.If you don't,your'll be in big trouble.Maybe you can try using the old because it may can work!
The real reason why LPSO closed down:To have time making the new lands (PurrBerry,Plains and PawPaya island without people online.
I'm VERY ANGRY!!!!!!!!! LPSO is not coming back. I t was a STUPID ROOMER that a friend told me.THE LPSO INFO I WROTE HERE IS NOT TRUE!!!!!!!!!!!!
Ad blocker interference detected!
Wikia is a free-to-use site that makes money from advertising. We have a modified experience for viewers using ad blockers

Wikia is not accessible if you've made further modifications. Remove the custom ad blocker rule(s) and the page will load as expected.